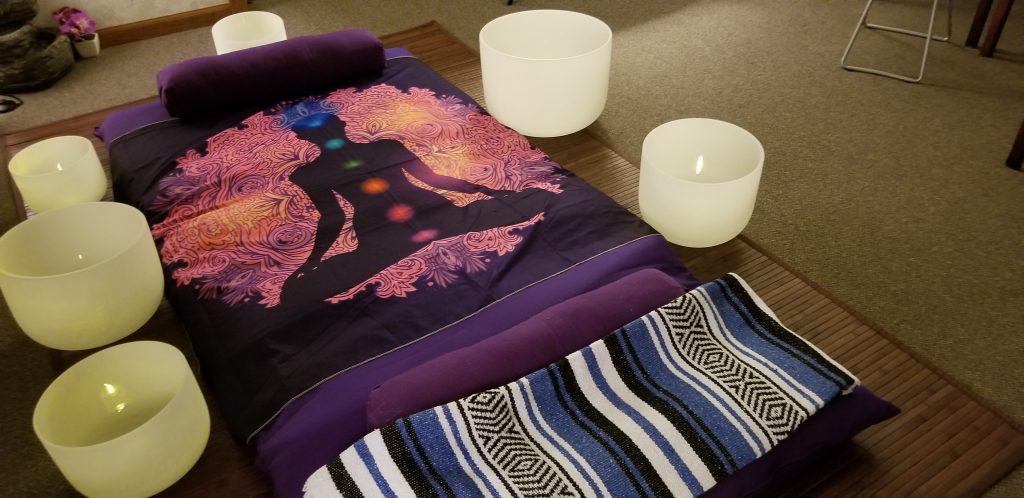 Join Rachel Smiljanić and Shira Brenner for a powerfully healing and rejuvenating crystal bowl experience. All you have to do is show and be open to blissing out through delicious blend of restorative yoga, reiki healing & the soothing sounds of crystal bowls.
Rachel will guide you into deep relaxing space with the magic of the crystal sound baths and restorative yoga postures, while Shira will be working her magic through gentle hands on & hands off reiki energy work.
••••

About Rachel: I am a yoga teacher, yoga therapist, reiki practitioner, intuitive bodyworker, meditation teacher & sound healer. My passion is to help people to slow down, give their body time to reset, space to digest their experiences & reconnect with their true centre.
"Underneath all the noise, in the quiet space we create within, we can tap back into our true magical selves".
About Shira: I am here to light your fire, help you remember just how spectacular, worthy and POWERFUL you are, and collaborate through spiritual guidance to create the life you crave with all of that passion and confidence steering the way.
I am an Intuitive. A healer. An energy alchemist. A truth speaker. An eating disorder recovery warrior and former perfectionist, integrating the tough parts of life with the joyous ones. A master of breaking through emotional blocks and getting the good juju to come rushing in. A novice surfer and a dance party starter.
I am a human being doing my best to be the realest I can be while showing up authentically through it all.
••••
About Restorative Yoga: Restorative yoga poses are longer held postures that are fully supported by props including blankets, bolsters and blocks. With the body supported you'll have the opportunity to completely let go, giving your body and all its systems a chance to move into a deep state of rest and healing.
About Reiki: Reiki is made up of two Japanese words "Rei" mean higher power" & "Ki" means life force energy". It is gentle and powerful technique of drawing life force energy can be performed by laying hands on the body or off assisting the body to move into a deeper state of peacefulness and relaxation. Crystal sound bath vibrations help to lull you into a deep calming & peaceful space.
REGISTER here or click the button below.